District News and Announcements
Subscribe to posts
On February 7, 35-RSU71 Elementary School students from CASS, Ames, and Nickerson participated in the first annual RSU#71 Chess Tournament at CASS. Students played between 8-10 games over a 2-hour period. Everyone had lots of fun and learned a lot in preparation for the Maine State Chess Tournament in Bangor on March 2.

Congratulations to the Indoor Track Teams at the KVAC Championships on Saturday. Boys placed 1st & Girls finished 2nd! The team had many great performances great job to all!
Our Individual KVAC Champions:
4x800 Meter Relay Mallory Tibbetts, Lindsay Bruns, Summer Deans & Hannah Sanderson.
55m & 200m: Junne Robertson-McIntire
Triple Jump: Lillie Mitchell.
Pole Vault: Lia Frazee
Jack Hansen won the Long Jump, Pole Vault, 55 meter Hurdles and was named Most Outstanding Performer!
WinterKids
Winter Carnival wraps up Ames games
State winners to be announced Feb. 11
By Fran Gonzalez | Feb 06, 2019
Photo by: Fran Gonzalez
Students race against each other at the Ames Elementary School Winter Carnival Feb. 1. The school hopes the carnival will put them in first place in the WinterKids Winter Games challenge.
SEARSMONT — Students at Ames Elementary School headed outdoors for a Winter Carnival on Friday, wrapping up the final week of the WinterGames challenge.
Brianna Brennick, second-grade teacher and coordinator said, "I think it is so important to promote healthy learning... There is lots of laughs, warm-up stations inside. Even though it's pretty cold, we're making it work."
Belfast Area High School students were on hand manning several stations and helping make the day run smoothly.
Activities included snowshoeing with local Game Warden Sgt. Aaron Cross and making bird feeders with Brooke Reed, a nutritionist from Waldo County General Hospital.
There also were relay races, sled pull races, capture the flag, snowman building, find the pennies in the snow and more.
Each week was devoted to one of four different activities that make up the challenge, which includes physical activity, nutrition, family engagement and participation in a winter carnival. Top prizes are $5,000 for the gold medal, $2,500 for silver, and $1,500 for bronze.
The four-week nutrition and physical activity challenge, sponsored by WinterKids, will announce a winner the week of Feb. 11. Ames Elementary students are hoping the winter carnival will put them in first place.
Students make bird feeders from pine cones, peanut butter and seeds at the Ames Elementary School Winter Carnival Feb. 1. Second-grader Khloe proudly displays her handiwork. (Photo by: Fran Gonzalez)
Maine Game Warden Sgt. Aaron Cross shows Ames Elementary School students how to put on snowshoes at the Winter Carnival on Feb. 1. (Photo by: Fran Gonzalez)
Belfast Area High School students Aaliyah Hopkins, LeAnn Wiseman and Sarah Fuller, from left, helped run activity stations at the Ames Elementary School Winter Carnival Feb. 1. (Photo by: Fran Gonzalez)
(Photo by: Fran Gonzalez)
Community outreach
Belfast boys basketball team helps fan battle cancer
Lion supporter, BAHS graduate Rich Hopkins receives monetary gift to help with cost of health care
By Zack Miller | Feb 01, 2019
Courtesy of: Tim Doran
Belfast boys basketball team captions Grady Doolan, Wilder Magruder and Jason Bartlett, along with team managers Leann Wiseman and Aaliyah Hopkins,with  Rick Hopkins, middle back.
BELFAST — It is always better to give than to receive.
That is something Belfast Area High School boys basketball program team members and their coach believe.
Thus, the Lions have given back to a community member, who has been a fan of the school's athletic teams for a long time, but now deals with health issues.
Rick Hopkins, a graduate of BAHS, is in treatment as he battles cancer.
Hopkins received a gift of $300 from the Lions to help with his medical treatment and bills.
The loyal fan was presented the money on Tuesday, Jan. 29 before Belfast's home game against Oceanside of Rockland.
Lion coach Marty Messer said Hopkins recently was diagnosed with cancer. " He has displayed a tremendous amount of courage, perseverance and love as he has continued to battle this disease," the coach said. "He continues to be a great role model to student-athletes and community members."
Team captains Grady Doolan, Wilder Magruder and Jason Bartlett, along with team managers Leann Wiseman and Aaliyah Hopkins, presented the donation to Hopkins.
"On behalf of our Belfast varsity basketball program, we are happy to give back some support to a loyal fan who has shown Belfast teams support for a long time," said Doolan.
"I have a team that loves to play basketball, but, as a coach, I'm always looking for opportunities for the team to learn and experience life-lessons," said Messer. "By working hard to support our program, traditionally we like to donate to a worthy cause and support the community that supports us. They truly feel the reward for giving and putting others ahead of themselves."
Messer said the team raised money for the boys basketball program with an annual shoot-a-thon, and also popcorn sales through Great American Opportunities, with a portion of money raised donated to Hopkins and his family.
"The experience was our pleasure to help Rick," said Messer.
2019 Belfast Area High School Ocean Sciences Bowl Team
Congratulations to the 2019 Ocean Sciences Bowl Team and Coaches Dave Thomas and Beth Mick!  On February 2, the team competed at the University of New England in Biddeford Maine at the Nor'easter Regional Competition. Quinnten Silveira-Charbonnier, Logan McHaney, Brendan Moline and Wyatt Ford won first place for the first time in Belfast's 9 years competing in the Ocean Sciences Bowl.  The all-senior team earned an all-expenses paid trip to Washington D.C. to compete in the national competition in April.
Captain Albert Stevens School hosted an evening of pizza and technology for families on January 23, 2019. The event included a look into the coding puzzles and programs being covered with elementary students, the software subscriptions we have available, information on other apps used in our schools, and featured our typing programs. Also unveiled, was the new lending program we will be establishing in the upcoming weeks that will allow students to check out a Chromebook to borrow over the weekend to sharpen their keyboarding skills.
Ames Elementary is one of two schools in Waldo County to be participating in the WinterKids Winter Games. A total of 32 schools around the state are competing in this year's games which is a 4 week nutrition and physical activity challenge. Each week there is a theme that focuses on winter in Maine and being active outdoors. Schools focus on to earn points.

After week one with outdoor activities, Ames School was tied at third place. Week 2 of nutrition just wrapped up with Ames tied at first! This week, has focused on nutrition and physical activity at home with families being engaged in fun, healthy, and yummy activities. An after school community sledding party was even held. The final week is Winter Carnival. Ames Elementary is going for the gold!



Searsmont teacher wins state VFW honors
Nelson heads to Washington, D.C., to compete at national level
By Fran Gonzalez | Jan 17, 2019
Photo by: Fran Gonzalez
Sarah Nelson, second-grade teacher at Ames Elementary School in Searsmont, shows her students her state Teacher of the Year plaque at an assembly Jan. 14.
SEARSMONT — A second-grade teacher at Ames Elementary School is the state's Veterans of Foreign Wars Elementary Teacher of the Year, and now advances to the national competition. Students and staff recognized Sarah Nelson at a surprise school assembly and celebration Monday.
Nominated by Randall-Collins VFW Post 3108 in Belfast for her outstanding commitment to teaching Americanism and patriotism to her students, Nelson was named district Elementary Teacher of the Year in November 2018. She then moved on to the state competition.
"We are in uncharted territory here," Belfast VFW Operations Manager Jim Roberts said Monday. "It's the first time ever a teacher nominated by our post has advanced this far."
The state Elementary Teacher of the Year award was officially presented to Nelson Jan. 12 at a VFW awards banquet in Bangor. Nelson now will compete for the national award in Washington, D.C.
At the national event, the top three teachers in the nation are named VFW National Teacher of the Year at three levels, elementary, middle school and high school, with each one receiving $1,000 for professional development and $1,000 for their school, plus an all-expense-paid trip to the convention in July.
Nelson said she taught her students the importance of activities such as pledging allegiance to the flag every morning, volunteering in their communities, supporting veterans' outreach programs and making cards for soldiers and veterans thanking them for their service.
"I am honored and unbelievably flattered to receive this award," Nelson said. "Our partnership with the VFW post has given us the opportunity to practice patriotism at a high level.
"We are a small country school with a huge heart." 
On hand for the festivities were Superintendent of Regional School Unit 71 Mary Alice McLean and three-war veteran Carmine Pecorelli of Belfast.
(Courtesy of: Jim Roberts)
Mainers can be proud of their schools for a variety of reasons. Every time I visit a new school I am impressed by the innovative ways they are preparing students for the future. Making changes in the way the students relate to food is no exception. This fall I was particularly impressed by the School Nutrition Department of RSU 71 (Belfast, Belmont, Morrill, Searsmont, and Swanville).
We live in fast-paced world, and this manifests in our food system as packaged food and disposable food ware. The RSU 71 nutrition department is bucking this trend, knowing that taking care in the kitchen can have great benefits for the health of students and the planet.
Take a look at RSU 71's impressive priorities:
Unpackaged Food Only
One goal for the district, initiated by community activists, is to make as much food as possible from scratch. On my visit, they were preparing homemade soup, salad, and sandwiches for lunch. They had homemade muffins for breakfast. The schools offer a vegetarian entrée every day. Fresh fruits and vegetables abounded in the kitchen!
Why isn't homemade food the norm? Over the decades, schools (like so many other sectors of society) have become increasingly dependent on packaged foods as a way to save time and money. It takes more staff labor and regular kitchen equipment maintenance to be able to provide students with foods made from scratch. Happily, RSU 71 has found that with new Federal nutrition requirements, it can be easier to provide homemade meals for its students by cooking with whole foods than sort through the nutritional contents of each packaged food item offered.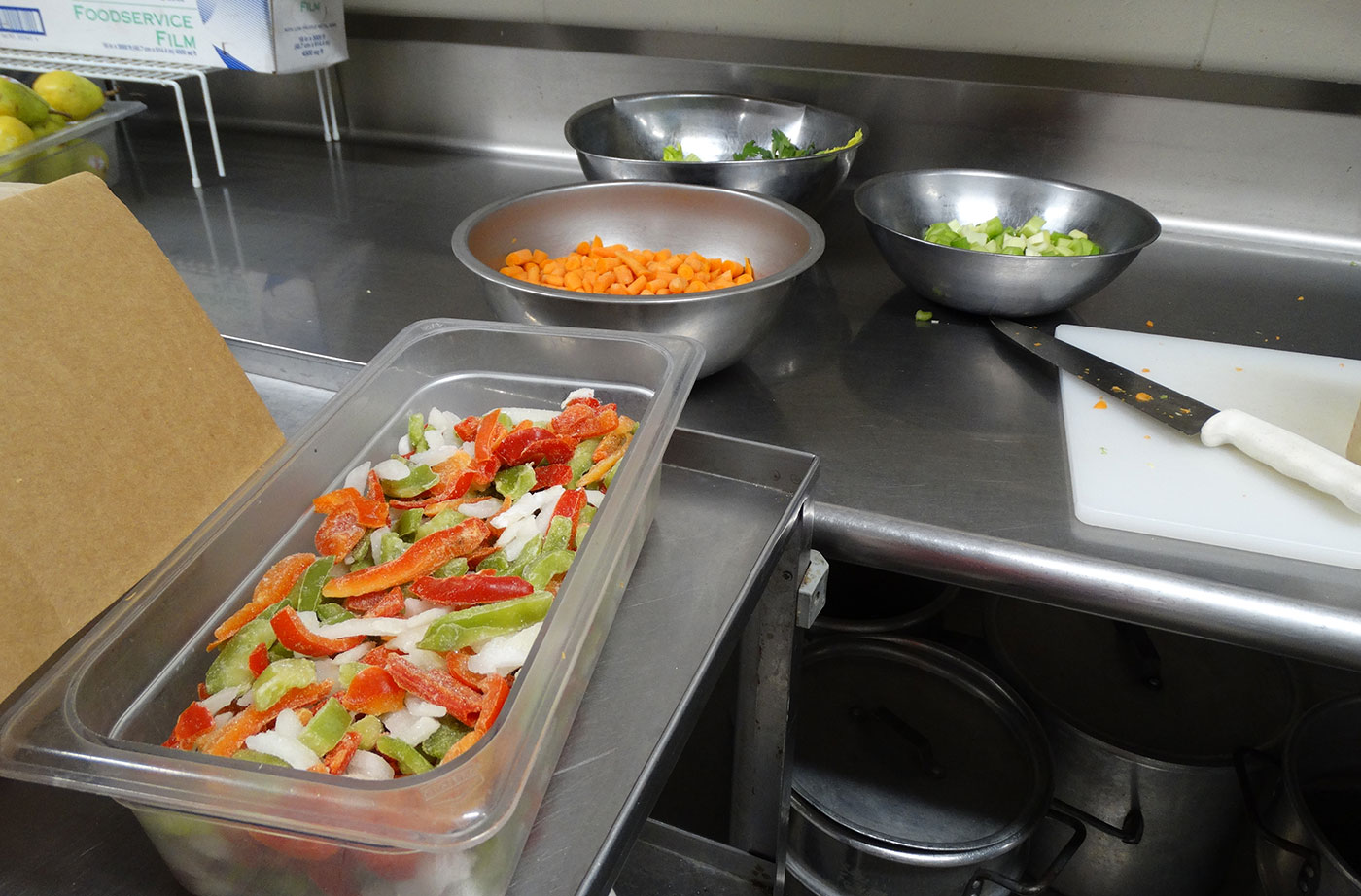 Preparing homemade soup. Photo by Chrissy Adamowicz/NRCM
Local Foods
Another goal is to allocate a large portion of the district's nutrition budget to purchase local foods from area farms. The district has built relationships with area farmers and is always looking for new ways to incorporate new local foods. Kids eat fresher foods, the carbon footprint of each meal is reduced because food doesn't have to travel as far, and local economies are supported; a win-win-win!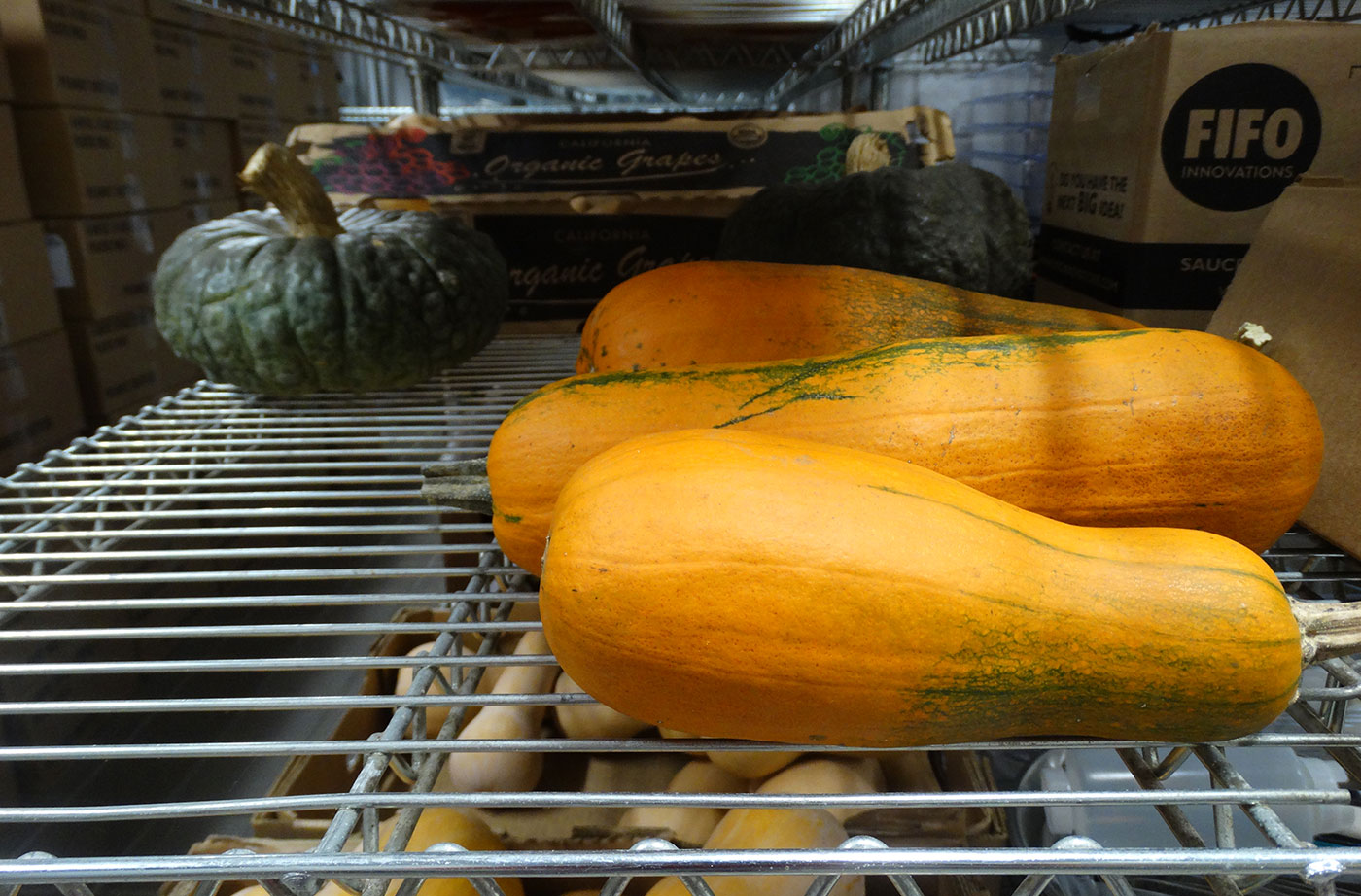 Sugar pumpkins from a local farm. Photo by C. Adamowicz/NRCM
District-wide Composting and Garden Program
RSU 71's relationship to food doesn't start and end in the cafeteria. The district has been composting food waste for years. Troy Howard Middle School has a Garden Coach that manages the compost on site and the City of Belfast brings leaf litter to the school so that they have adequate carbon to add to the piles. The garden program has a greenhouse, garden beds, vermi-compost, and composter. Students get the opportunity to grow food for the kitchen, which the kitchen purchases, and that money is used to help support the garden program.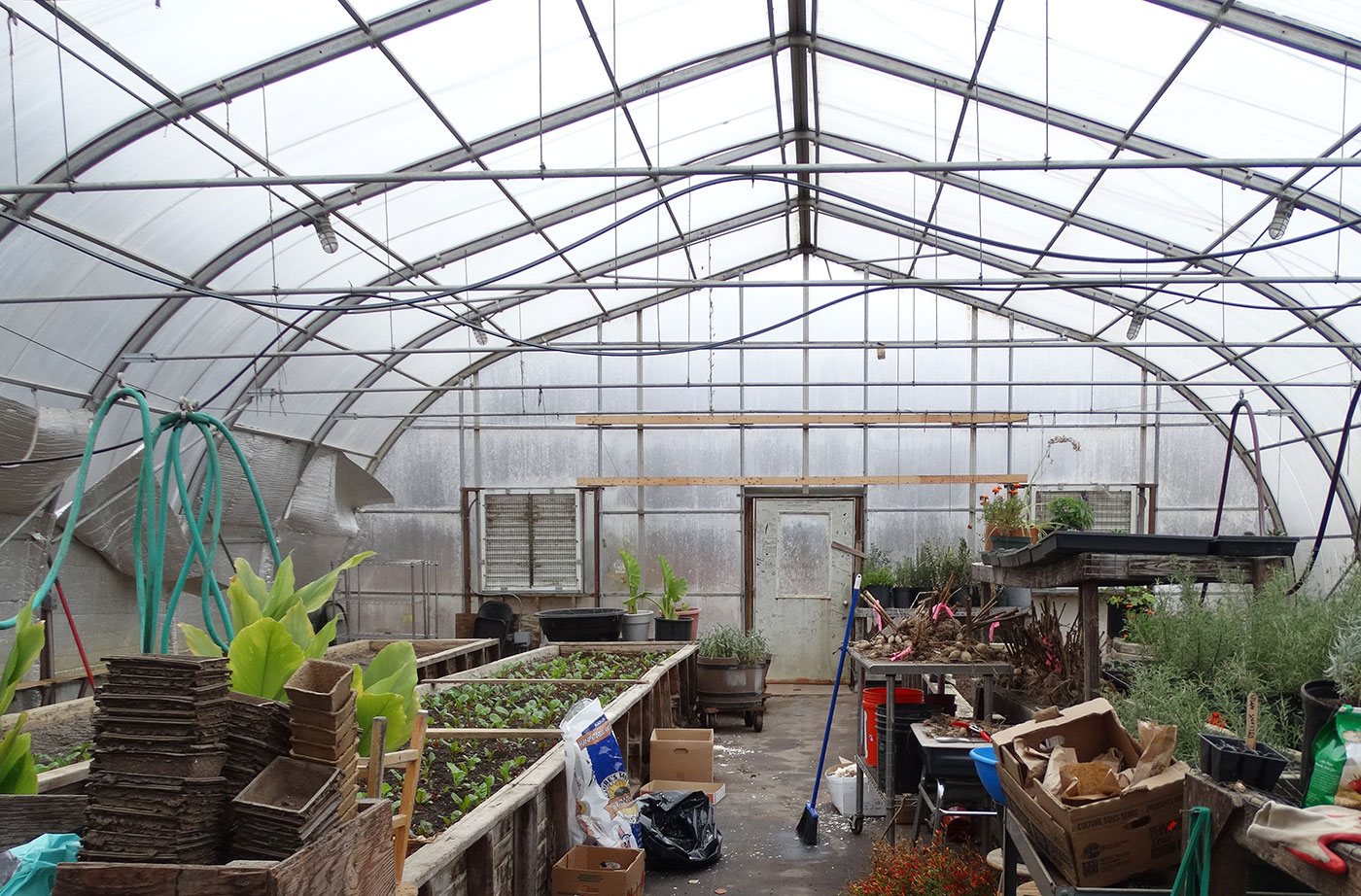 Greenhouse garden program. Photo by C. Adamowicz/NRCM
All of these wonderful changes are made possible by a school community that is committed to the health of young people and the environment, and who have chosen to lead by example. Every year hundreds of students experience the pieces of a healthy relationship to food at RSU 71. The ripple effect of RSU 71's school nutrition program is big, and sure to make Maine a healthier place for all.
—Chrissy Adamowicz, NRCM Sustainable Maine Outreach Coordinator
High school cheering
Mustangs eighth, Lions 11th in KVAC competition
Belfast makes return to competition for first time in years
By Staff | Jan 22, 2019
Photo by: Mark Haskell
Scene from the Kennebec Valley Athletic Conference Class B high school cheering championship competition on Jan. 21 at the Augusta Civic Center in Augusta.
AUGUSTA — For the first time in years, Waldo County was represented by two high school teams at the Kennebec Valley Athletic Conference cheering championships on Monday, Jan. 21, Martin Luther King Jr. Day, at the Augusta Civic Center.
Mount View of Thorndike is a longtime participant in the competition, but this year Belfast also made the journey up Route 3 to the Capital City to participate in all the fun.
In the end, Medomak Valley of Waldoboro finished first for the seventh time in nine years, while Mount View was eighth and Belfast 11th.
Due to the winter storm that blasted the state over the weekend, the competition was moved from 10 a.m. to 2 p.m. and there was talk that if the inclement weather continued into Monday, the event might be scraped.
Ultimately, it was held and the Mustangs and, especially the more newly-formed Lions, were happy about that.
The Mustangs, guided by head coach Carol Bryant and assistant coaches Julie Aspinall and Cindy Lufkin, include Makayla Brown, Emily Lancaster, Madison Magnant, Olivia McPherson, Emily Moulton, Alyvia Ripley, Kaylee Corson, Shauna Randall, Jensen Aspinall, Sabryna Bailey, Shyanne Durand and Emma McPherson.
The Lions, led by head coach Chelsea Howard, Alyssa Harriman and Amanda Schiessel, include Jed Salvatore, Tisha Stolz, Taytem Condon, Daisy Bradney, Alley Demmons, Emily Wakeman, Sierra Davis-Demmons, Sara McIntire, Izzy Degraff and Allaura Dunham.
The Class B team scores, with the scores from the four judges and the total listed, were: Medomak Valley, 18.5, 18.3, 18.6 and 23 for 78.4; Leavitt of Turner, 14.8, 15, 14.2 and 16.8 for 60.8; Erskine Academy of South China, 12.2, 16, 17.6 and 13.6 for 59.4; Morse of Bath, 14, 13.1, 16.2 and 16 for 59.3; Gardiner, 10.1, 13.8, 14.8 and 11.5 for 50.2; Winslow, 9.8, 9.8, 14.2 and 12.3 for 46.1; Waterville, 9.3, 12.3, 16.5 and 12.6 for 50.7 (5-point deduction, for 45.7); Mount View, 7.4, 13.8, 12.7 and 10.4 for 44.3; Lincoln Academy of Newcastle, 8.3, 11, 14.2 and 9.3 for 42.8; Nokomis of Newport, 8.4, 9, 10.5 and 10.4 for 38.3 (5-point deduction, for 33.3); and Belfast, 6, 9, 4.5 and 6.3 for 25.8.
Also on Monday in Augusta, in KVAC Class A, Lewiston finished first at 22.2, 22.8, 23 and 19.3 for 87.3, while Bangor was second at 22.1, 18.5, 20.9 and 21.7 for 83.2.
Next up for the Mustangs and Lions is the Class B North championship competition on Saturday, Jan. 26 at 11:15 a.m. at the Cross Insurance Center in Bangor.
Courier Publications' sports staff can be reached by email at sports@villagesoup.com or by phone at 594-4401.